​Dinner in the Vineyard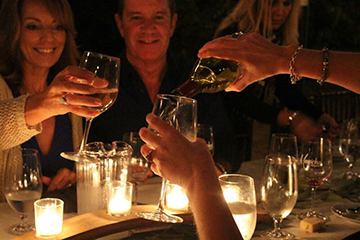 Come join us for another incredible dinner in the vineyard experience on Sunday May 6th at 6:00pm prepared by Chef Ryan Velasquez from REV's California Cuisine. Enjoy a night of unique dining in the vineyard under the stars with great food, friends, and wine!
Menu
Dinner in the Vineyard
Presented by Marechal and REV's
Whole Rotisserie Pigs
Two Slow Smoked Pigs - with sides - Pickled Onions, Whiskey Sauce
Garden Salad - Family Style
Spring Mix - Feta - Strawberries - Orange Vinaigrette - Candied Pecans
Slow Braised Prok Belly & Beans
Six Hour Braised Pork Belly - Agave Finish
Creamy Cole Slaw
Whipped Sweet Potatoes
Cream Style Corn
Corn Bread - Agave Whipped Butter
Desserts
Strawberry Pretzel Salad
Click here to get your tickets early. They're going fast!