Our Team
Those that have chosen to contribute to the productivity and success of Marshall Estate are fully commited to producing a superb product and experience through ingenuity and perseverance.
---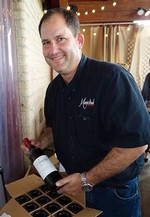 Josh MarshallOwner / Winemaker / Grower
Josh is the owner, winemaker and grower for Maréchal Vinyards.

Jenifer MarshallEvents Director/Sales
Jenifer is in charge of planning, organizing, and executing all of the events at Maréchal Vineyards from daily tastings to private events.
Jake Viau Farming Operations Manager
Jake is responsible for the daily operations of managing our farming enterprises.
Andrea ViauEvents & Social Media Coordinator
Andrea brings her creative vision to Maréchal Vineyards as she coordinates public and private events, and implements and maintains online marketing strategies through social media.